This pup has been allowed to go on holiday… Passport in paw, my handler and I went off for a weekend away in Belgium and Netherlands, and thankfully, we got the right weekend what with the snowy weather we've had since!
Well, OK, there was reason to the trip… I was one of the judges for the Mr Puppy Europe competition this year. My massive congratulations to all who entered (Hack, Hero, Teck, Nox, Matt, Buumi, Makker and Zaush) but particularly to Pup Matt from France, who won 🙂 This trip also gave us a chance to catch up with some people including The Kinksters, Latex 101 and some of the team from Recon as well as many random people. With this catch up with people I haven't seen for quite some time – something may be occurring …. watch this space later in the year 😉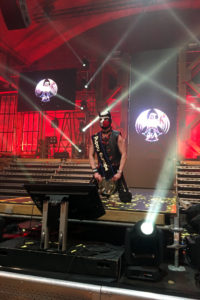 Around the area of the Leather Pride event, which Mr Puppy Europe is part of are some historic cranes, and while I had a moment spare, we thought we'd take some photos.
Also the stand just opposite Camp-K9 (Camp-K9 is the area that we use in Darklands for the pups) there was some HUGE dog status, so it had to be done … a quick photo beside one of them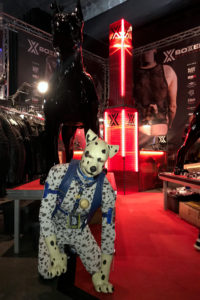 After the contest and Pup Matt being awarded the title of Mr Puppy Europe 2018, we all descended upon a local pizza restaurant for a celebratory meal. The staff there were very accommodating, considering it's such a small venue, and over 40 of us pups and handlers, judges and helpers arrived!!! … Due to the numbers, we had to sit outside in -4 deg C having food and drink … but that certainly didn't take the chill off the fun … and to keep warm, I put on my Dalmatian print onesie, then my Mr Puppy UK 2015/(16) jacket over the top, so I still basically resembled the same pup that had arrived at the restaurant *wags*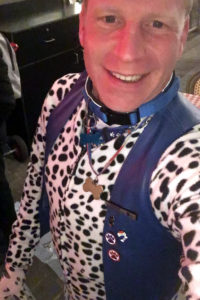 For logistical reasons with travel, we knew we would end up having a few hours to spend in Amsterdam. So before leaving Antwerp we visited Mr-B (Antwerp) after leaving the hotel, before walking down to the train station. Once at the train station, a quick bite to eat and then a few pictures as puppy in the train station. (and we also bumped into ZaushPuppy who was also making his way home.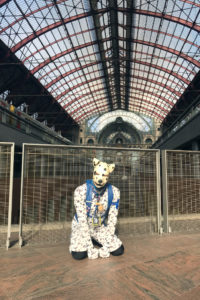 Once on the train in the warm, I couldn't resist but to travel as puppy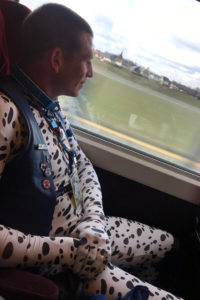 Sadly with how chilly it was, I covered back up with Combat trousers and Fleece as we arrived in Amsterdam. I stayed dressed over the top of puppy whilst we did our wander round town and we did manage to take a look in a few shops, including Mr B and ROB before we had to head for the plane home. However, once in Amsterdam train station and knowing that for the next while I'd be inside, I changed back to become puppy and put my domestic clothes in the bag, before taking a few pictures outside the station.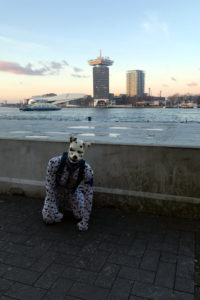 After the pictures, a coffee in the train station to warm up before catching the train to Schipol Airport.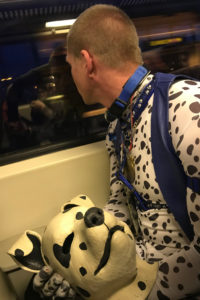 With my puppy hood in my paws…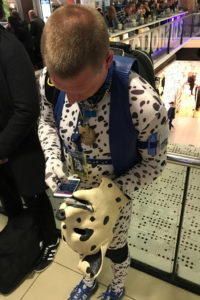 I managed to travel from Amsterdam Train Station to Luton Airport as full puppy (minus hood) – stopping for a bite to eat in the Schipol airport though.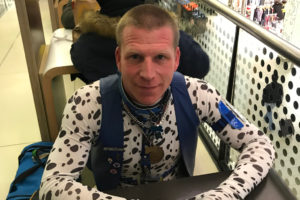 Being almost full pup causes great merriment with security at the airport and they even remarked that dogs can't come through security… and some staff were inquisitive and asked a few questions, which I happily answered explaining who and what I am 😉 . Being puppy on the plane also was fun 🙂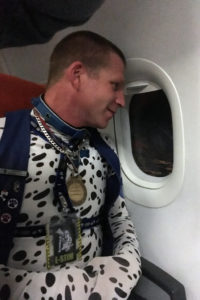 … the airline crew asked, once we'd landed, to see me with the pup hood on, so I happily agreed *waggles* – but so as not to cause trouble in Luton airport, I took the hood back off and carried it with me in my paws.
… Sadly though when back at Luton, I had to put my fleece back on as it was just too chilly waiting on the bus to the car park!
A PAWESOME weekend away, and hope to have more pup time this year and keep my paws typing in my blog as I know I ended up a bit distant from the blog and pup time during 2017 … so here's to a more enjoyable pup-filled time of 2018. *wags*