I've still got a post to write about the remaining part of my holiday, but as Colin has published some of his photos tonight of Birmingham Pride, I thought I'd best write a blog post about it.
This year's pride followed not long after the Manchester Bombing and that meant there was an increased police presence on the streets around the start of the parade – but that didn't mean to say they weren't getting in to the spirit of things – and their Chief Constable even posed with the Pup Group for a photo – and tweeted it!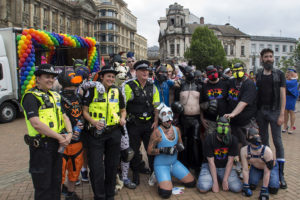 We also had a chat with people from The Dog's Trust before the parade, as they had a giant dog at their float.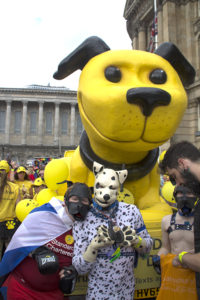 It was also suggested that we form a Pride Rainbow out of the pups – so that was soon organised!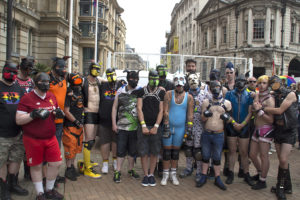 As we approached the start of the parade, a minutes silence was held in memory of those that had been affected by the events earlier in the week, and this was a very eerie moment. However, as soon as it was finished, the parade was underway.
The parade set off, following the same route as previous years, and as usual there was the usual good natured fun as we went down the streets. Thankfully, it wasn't quite as busy as last year, but also the puppy group were still getting attention off the crowd.
Thankfully, the weather held out – although if the wind was blowing it could be kind of cool – but as usual, it was great fun to walk in the parade with everyone.
Enjoy the photos of the walk on this post – there will be another blog post to come from when Colin and I went in to the events in the village.
*woofs*
Spot