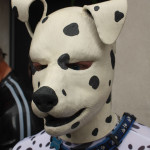 Today saw the Annual London Pride Parade and this pup was part of it, courtesy of Puppy Pride organising the walking group. So this morning, I sorted out the outfit, and as an added twist I included my E-Stim Systems Remote Box. There was a reason for the Remote Box though … Caz from E-Stim Systems was going to be my handler for the day so that my owner could take pictures.
Due to a slight delay at home, we got off a bit later than planned, but still with enough time to get there before the Parade started. En-Route, we met with Caz and Wayne and carried onto Baker Street. … A quick loo stop and snack and then down to meet the rest of the group. Once with the rest of the group [too many names to remember to list here!], I finished off putting the hood, paws and knee pads on, and became my pup self. … Then the rain started!!! Luckily we bought a rainbow brolly and it was big enough to keep this pup and Caz dry. Whilst waiting for the Parade to start I bumped into a few people I knew which was fun 🙂 *wags* and we all hoped the rain would pass – which by luck, it did just before we started.
Due to the ground being wet, I didn't go straight off on all-4's and walked normally 🙁 … technically though we hadn't entered the public part of the parade yet, so it wasn't the end of the world … We got near to the official start line and the sun had just tried to come out, meaning the ground had dried somewhat, so I dropped to all-4's and was off! I had great fun, thought due to damp ground, and the parade moving a bit quicker than previous years, I had to drop in and out of being on all-4's, but when stood up I did make myself known well by barking (loudly) at the crowds … who needs whistles 😉
At one point I went and said 'hello' to a real bio-puppy, too much amusement from people around. … The parade moved at a steady pace for the main part, so I was stood up, barking – though whenever we stopped I dropped to all-4's and had fun with the crowds. One person even gave me their real dog so they could have a photo with me and the real dog *wags*
The main parade for me is a bit sketchy, as when in full pup mode, I don't seem to really recall much, mainly because I'm enjoying just being a pup.
The rain stayed off for the most of the event, but when we did have a light drizzle my surrogate handler (Caz) did an excellent job of keeping me dry with the brolly.
The end seemed to come all to quick, and the group got directed into a side street to be able to have a mass group shot (or 2 or 3 or 4 ……. ) and then de-pup and head off our separate ways.
The decision for us was to head off back to Baker Street to the Nandos Chicken restaurant there to have some dinner …. though after dinner, I re-pupped up (as I hadn't taken off the Zentai or knee-pads yet) and travel back home as a puppy on the train which caused much amusement to the carriage we were in – and it also confused the Beagle Bio-Dog that got on with us!
Overall a fantastic day out, the rain didn't dampen spirits, and all had good fun …. some pics of me are here on my blog, and then as I find others I'll do a couple of follow up posts
*wags*