Understandably, over the last year, there's been very little opportunity for me to get a chance to partake in any fun stuff to write about on the blog… However, as things have started to change and places are starting to open, I've been looking forward to getting the chance to do things.
During the lockdowns, I managed to reconnect with one of my very good pup friends, PupGizmo; and we'd been chatting. When my owner and I were on holiday recently, we took our opportunity to play with many of our toys – including our Milking Machine and our Vac Cube. Taking the opportunity to tease Gizmo with pictures, got us chatting about potentially meeting up after things got a bit calmer.
Well, that happened recently; with all of us having had double vaccinations, and nice kinky venues opening back up again, we managed to find a date and time that was convenient to everyone and local enough that it meant we could take all the fun toys with us… although, as ever too much was taken and time too short for everything we wanted to do.
After meeting up and having a quick catch-up chat to begin with we got down to the serious play business… no, actually, we didn't. I stripped down to a nice thong, went outside to get some fresh air and discovered the hot tub outside was quite warm – and ended up in it with no thong! While this was happening, it turns out Gizmo had been stripped down to his rather nice rubber jock and chastity cage.
Now… the serious play started 🙂
First things first – assembling the vac cube and getting a chance to play in it; this was a new cube sleeve which meant I was hoping it would seal a bit better than the previous version which was a bit old and worn. The new one… was a vast improvement! Obviously, though, having a horny friend with us, means that when I was restrained in the vac cube – I was completely exposed for merciless teasing!
However, after my turn in the Vac Cube, it was time for me to get my own back as Gizmo got a chance to go in it too!
The look on Gizmo's face as he was in the cube though, definitely showed he was enjoying it!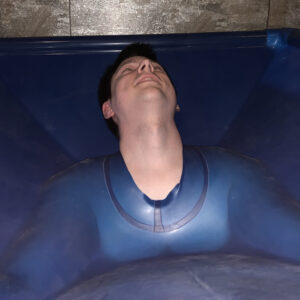 Next up came a bit of suspension… Being up-side down and completely unable to see means that I had no idea what was being done to me; who was touching me or what they were using!
Again, after my chance to be upside down, Gizmo got his chance as well. Again, not being able to see meant that we got a chance to do things to him… so a little bit of torture for gizmo with a couple of hitty things meant that it was definitely obvious that Gizmo was enjoying himself 😉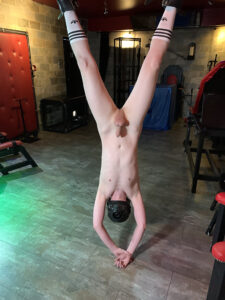 After a bit of upside down suspension, we both donned some CBT weights for playing with while we were going to be suspended the correct way up.
The weights make it an interesting sensation, and some of the texture gloves that we'd bought meant that I would feel things but not know where they were coming from.
Unknown to me, Gizmo was forced on his knees in front of me and started enjoying the puppy's bone as well!
Of course, turn about is fair play… Gizmo was soon hanging in mid air while this not-a-dom-or-alpha pup decided that his nipples looked too good… so while Colin was hitting Gizmo's arse and teasing him with spiked gloves… I was attaching nipple suckers to Gizmo!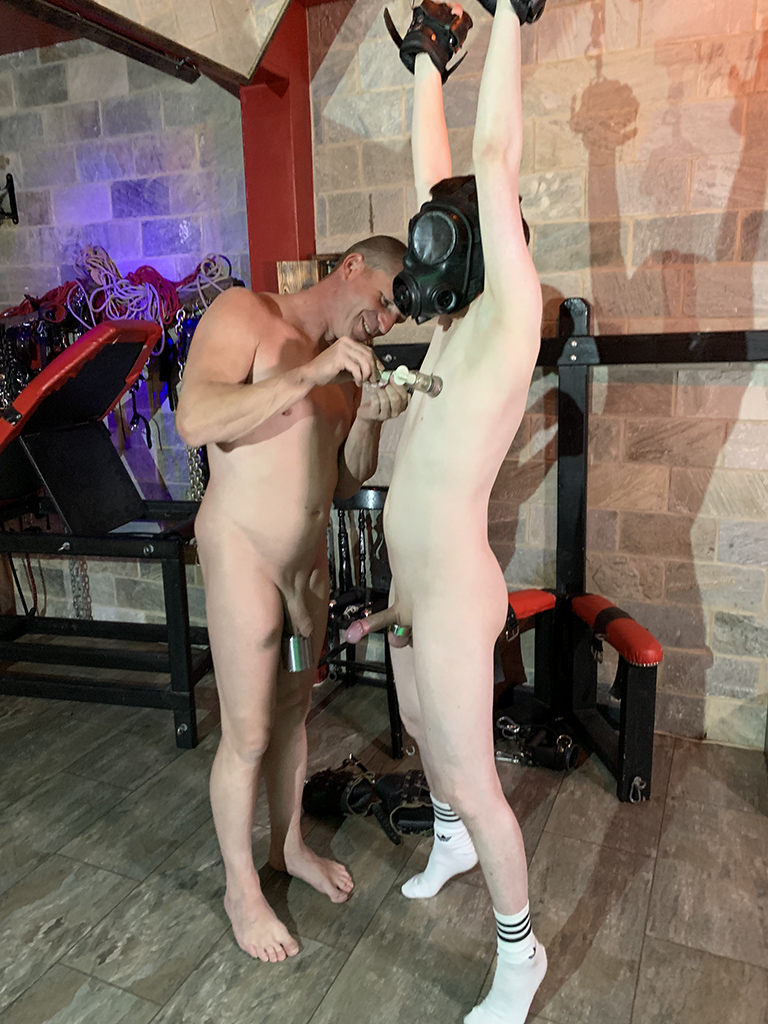 I didn't stop there though… I got a pin wheel out and started running it along Gizmo's very erect cock… his reactions can be seen in the video below!
Following the suspension, we went for something a bit more sedate and both, separately, ended up chained to a wall.
We ended up deciding that the Vac Cube would be the ideal way to finish the day;
Towards the end of the session, everyone wandered off and left me in the Vac Cube… I was unaware of what was going on, but I gather Gizmo was having a good time 😉
It felt really good to meet up with Gizmo again after a long time (we think about 5 years for a social meeting, and even more for play time) but it was a good day and a nice meal out afterwards meant a good day.
Oh, you might be thinking that Gizmo got a good time, but I didn't? Nope… I got my good time at home that evening: