Pup Social 3.2 happens in Birmingham, although this time it was in a different venue for various reasons… so, of course, this puppy HAD to go along as he was free to meet up with all my friends and to meet and make new friends *bounds round excited*
We arrived just after the start, due to some poor navigation from my owner who forgot to tell me which junction to turn off at *growls* before we went in, said "Hello" and got changed… Of course, after I got changed there was far more opportunities to say hello to people.
As the afternoon progressed, I found I was actually having more in-depth conversations with the likes of BossBear and a new puppy at his first pup event – Tommy from Sheffield. I also spent a bit of time chatting to members of the Pup Social Team and other puppies who I knew or recognised me at the event. In fact, a good part of the main part of the social was spent talking to pups rather than actually being a pup – but then, I'm more than happy to talk to people or to give advice based on my experiences of Pup Play.
I had some silly pup moments at the social … one was a quick photoshoot with Tommy which the photos can be found on the PupSocial Tumblr feed and at the end of that, someone brought in a video of 101 Dalmatians … so the photo opportunity had to be done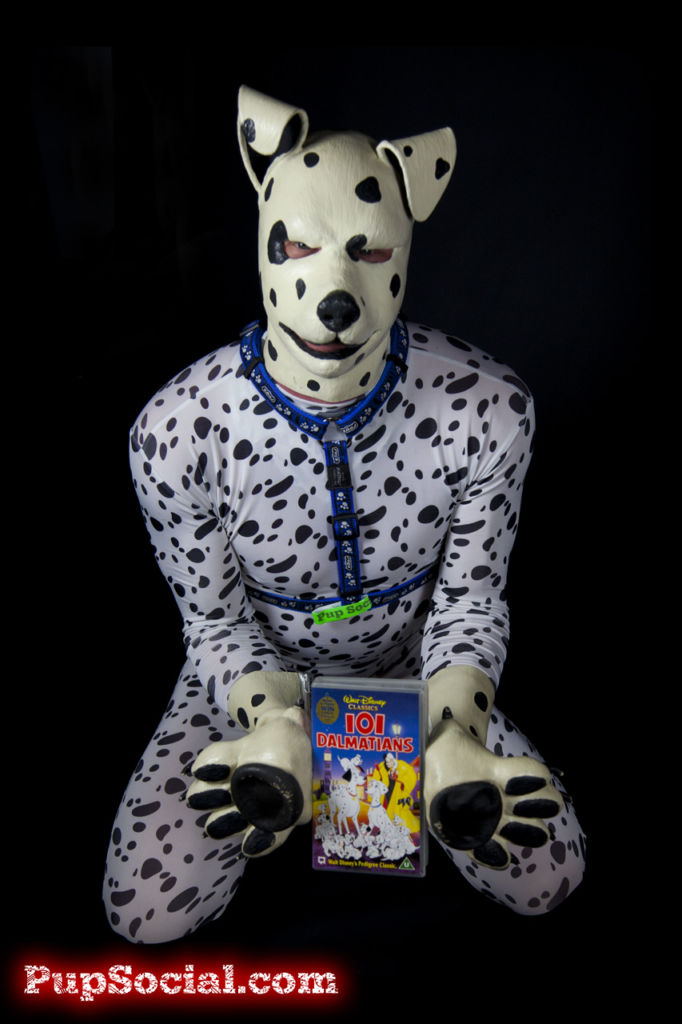 *wags*
I also was 'caught' being a mischievous puppy when I was showing how dexterous I can be, as I managed to tip all the treats out the treat box … unfortunately there was photographic evidence of this by the PupSocial Team *whimpers*

As the afternoon drew on, I realised it was actually time for food as it was later than I'd though! So myself and Huskin, Marbles, Frosty, Acey and a couple of others ordered some food for delivery to the venue (as the different venue allows us to stay right through the duration and allows food to be ordered in) and I ate and enjoyed that. After some more talking, it was time to be a puppy and I got fully kitted up and was then put in a puppy cage for a bit to chill and relax. The room was fairly dimly lit and peaceful, and so I dozed in and out of light sleep. Some people may think it odd to turn up to an event, but then find out I slept during some of it in a puppy cage – but for me it's a chance to unwind and just chill out on in the safety of a puppy cage.
As the time had come for some of our friends to leave, I was let out the cage to say 'bye' to them, and then found myself speaking to more people about life and puppy play and me … then as the end of the night approached (about 1am GMT), it was soon time to head home as I had an early start on the Sunday. Then came the bombshell – the clocks went forwards *whimpers* which now meant I wouldn't be getting home until about 3 / 3:30 am BST … and an early start to the Sunday … *puppy mistake*
As I said goodnight to people, I had another long chat with Tommy at the event and hopefully helped him out a bit! I may not have been a puppy in the full mischievous sense during this Pup Social, but I enjoyed the time talking to people, helping them and also learning and reflecting about me too!!
What an awesome venue to hold PupSocial in though!!! so much play space and so much to do … I hope they can hold it there again *wags*
*wags*
Spot