Following on from Mr Puppy EU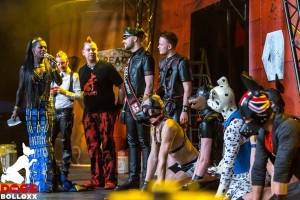 I thought I'd put paws to blog over some of the other aspects of the weekend in Antwerp…
In amongst Mr Puppy EU there were moments over the event where I had free time to visit some of the other stands – unfortunately due to the nature of the event, photos aren't really permitted in general – but we were lucky enough to take some shots of me doing a couple of activities which don't have anyone else in them…
For the first time ever, this puppy got a chance to play in a Vac Cube that was at the event, and what an experience it was. I had to first remove my hood and paws and harness so as not to tear the rubber. Then it was a case of climb inside through an edge, place my head through the neck hole and once comfy, they sealed me inside. … Then the vacuum was turned on and after a few seconds I started to get encased fully in latex. Once it had fully deflated around me, I had a bit of time on all-4's which felt very natural for a pup… and then they turned me! I was now head facing up, and all of me was exposed, yet still on all-4's! A bizarre but very comfy feeling. They they turned me again to face sideways, again fully exposed but now sort of lying on my side, but in a stance of being on all-4's! … Having a try in a vac-cube is something that has always been on my wish-list to do … and now I've had the chance to do it, I want one for myself!
The pic are taken as snapshots, so aren't the best quality they could be, but they give you the idea of what I was up to… though my tail looks rather 'interestingly wrong!!!' and almost looks rude!
A new purchase was also made when we visited a stall with some behind the back bondage cuffs meaning that there are now new ways to tie this puppy up… In due course I'm sure there will be pictures that will include these cuffs in service!
Once the event of Mr Puppy EU was over, and Leather Pride had finished, I was able to do something that had been tempting me all weekend whilst being a puppy – There was a frame over the Camp K9 area that was there with the specific purpose of suspension. I didn't get a chance to do the suspension, but I did decide to jump up to it and then 'hang around' for a bit whilst up there – almost being semi gymnastic with it … Just wish I'd done it earlier and had more time to 'pose' whilst hanging there with my own paws 🙂 *wags*
Finally, on the Monday as we were leaving, we paid a visit to Mister B in Antwerp; having a browse around and a chat with the staff about various things; including that they recognised me as the E-Stim Systems puppy and that I was the UK winner of Mr Puppy UK (Though the jacket might have helped that as a clue). I also munched on their puppy treats they had, which were really nice and had a sweetness to them!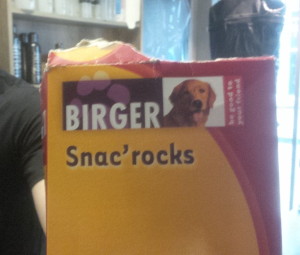 There was lots of things we could have bought, but we decided to be good and I only came away with some new white knee pads – which are discontinued, so I'll need to take care of these ones! Reason for so little purchases was due to having only a small amount of limited luggage space left for the flight home.
*wuffs*
Spot