This post is somewhat 'old news' but still worth posting *waggles*
To follow up on my time at Mr Puppy Europe back in February 2017, I carried on for a short break afterwards ….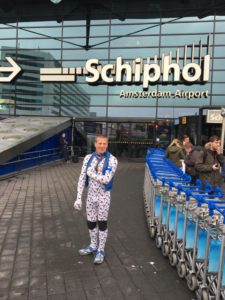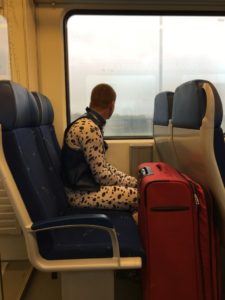 After arriving in Amsterdam (still dressed as puppy after leaving Antwerp 😉 ) and finding our hotel – puppy had a good sniff around to make sure that it was all safe…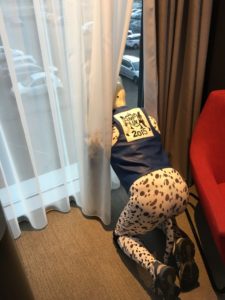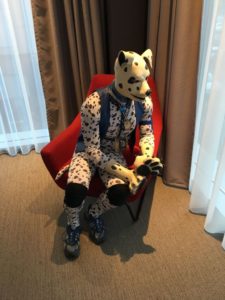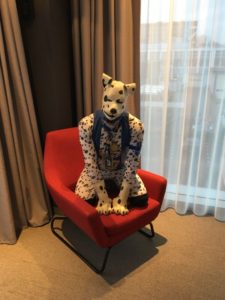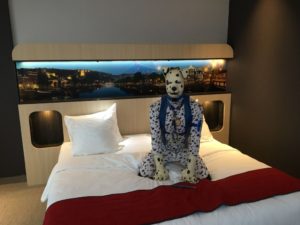 I just had a chilled out night – well, we made use of the on site spa and sauna facilities and had some dinner… After returning to our room, we set about starting to plan our day out the next day.
Our initial plan was to visit some of the more adult shops, to see if there were things that we wouldn't normally see in the shops in London. I'd decided, given that we were in Amsterdam, I was on holiday and the nature of the shops that we were going to go, that I'd spend the day out and about as Spot.
However, the first port of call was to see if we could find a sign similar to one I'd spotted at Schipol Airport when we'd arrived – a BIG "Amsterdam" sign… I'd also seen one when we drove past in the taxi on the way to the hotel the night before. As it happened, Google Maps had such a sign highlighted on it! It was my goal for this part of the holiday to be "pup on tour" so it was decided that this was to be a good starting point – assuming the weather stayed nice! My owner and I duly got in to the city on a tram, found where we were getting off and found the sign – it was quite busy but still managed a few photos.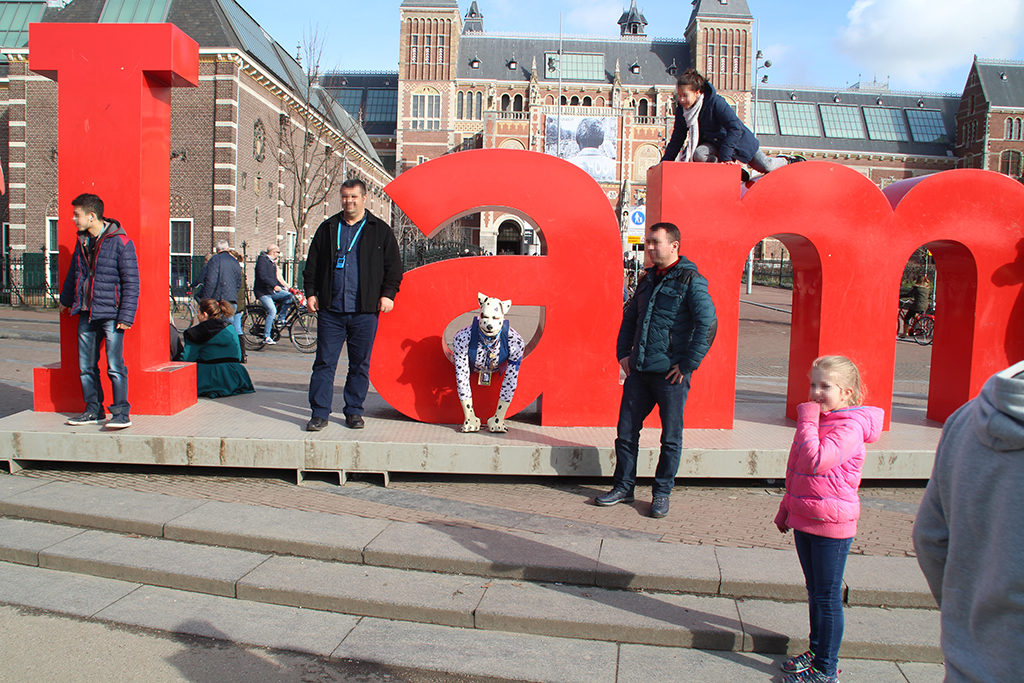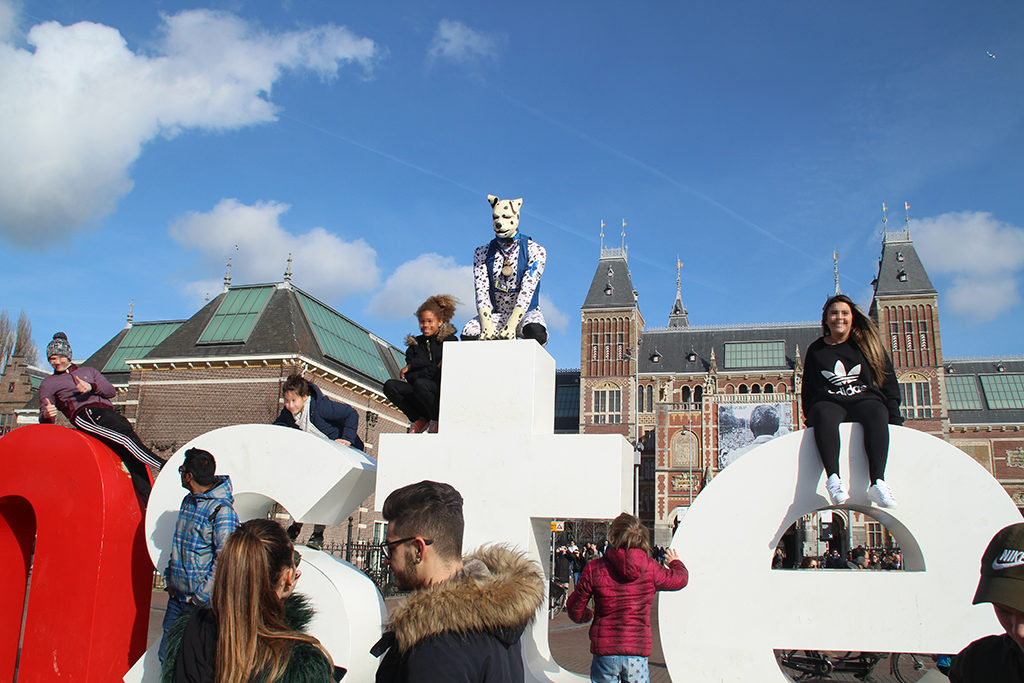 Puppy then wanted to go from there to a number of adult shops in the city – having plotted a route out from the list of shops, to see what we could see. There was definitely more selection of some things in the shops in Amsterdam than there were in London. During this time Pup Turbo, the IPTC International Puppy 2016 (that we had met in Antwerp) came in to Amsterdam to join us, and we'd agreed to meet up with him at Mister B.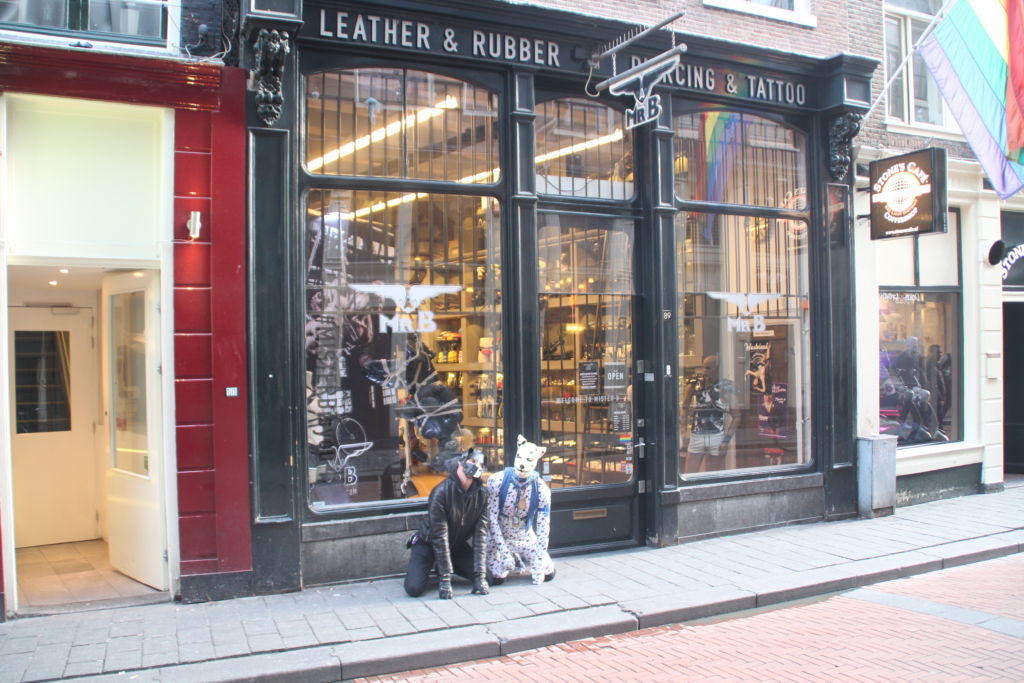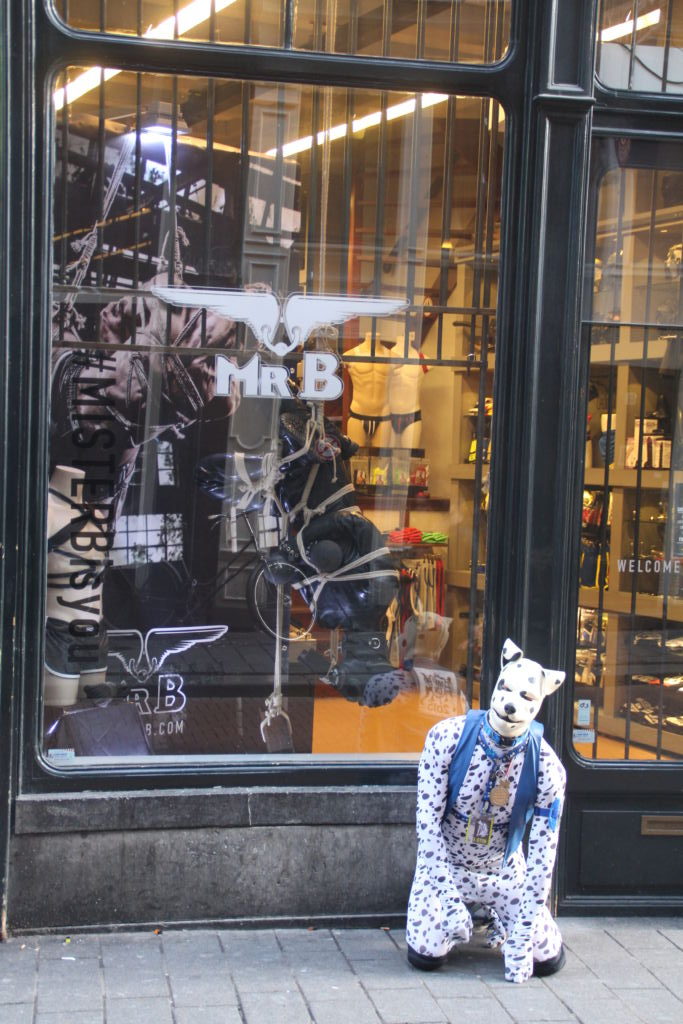 We arrived at Mister B, and after I was stopped by someone wanting to film me in the street we went in side to meet him. We had a look around, had a chat with The Puppeteer… and couldn't resist the temptation to buy some bondage cuffs as well.
After visiting Mister B, and one other shop nearby, we decided it was time to do some genuine tourist things still dressed as puppy!!!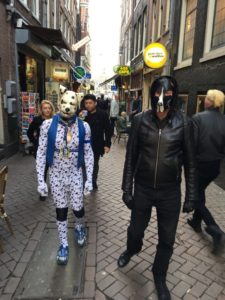 At this point, we decided to visit A'Dam Tower. Through a special offer we got some money off the entry … Turbo and I, decided we wanted to do the swing at the top of the tower (the highest swing in Europe!).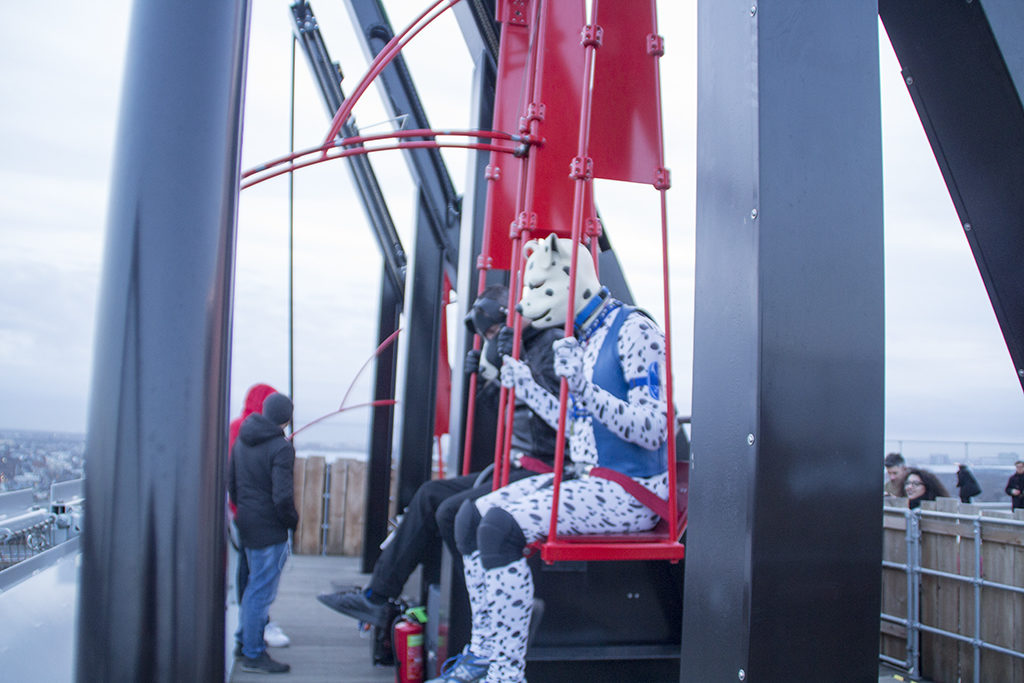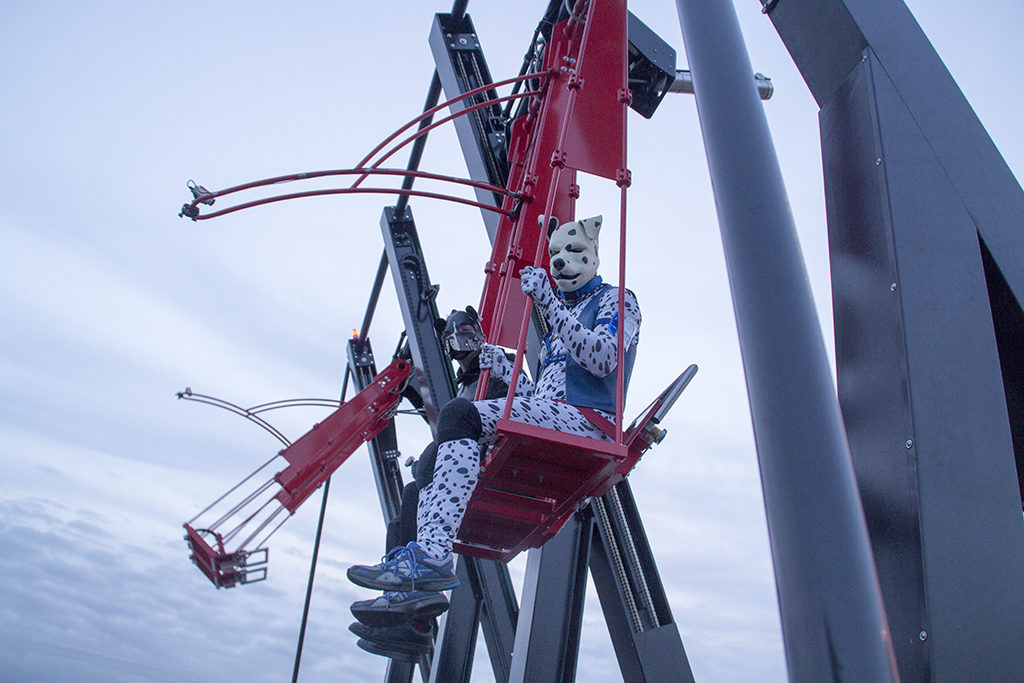 After we had finished on the swing, we went to get some dinner, said our goodbyes and we headed back to the hotel. After a long day out, it was good to be able to make use of the spa and sauna. We decided to spend some time taking some photos for a Twitter Challenge for DareSetter when we got back to the room, since we had the opportunity to.
We also talked about what to do on the Wednesday, including options with and without me being out as puppy. Unfortunately, most of those options ended up having to be the "without" ones due to the weather – it was too wet and windy. We ended up enjoying a canal boat tour around Amsterdam, went back to Mister B to visit Krizzly who was working there that day, and have a wander around the Red Light District. We decided we'd have to come back and do that later though…
After going back to the hotel (and using the Spa and Sauna again) we ended up going back out later, but again puppy couldn't go – the weather was still not in my favour for being a white puppy!! 🙁 We had some dinner, and had a look around the Red Light District in the evening. I have to say, the one in Antwerp we found ourselves in by accident was a lot nicer!
Thursday was our last day and when we woke up the weather was not great, so ideas for the day were adapted. I left the hotel with puppy on under my clothes – hoping that the weather would either clear up, or once inside in the dry I could change to become pup. When we arrived at the Train Station in Amsterdam I decided to go for it and changed in to Spot and took a fairwell picture just outside the train station (The A'dam Tower is in the background and you can just about see the gantry of the swing we went on a couple of days earlier on the right side of the tower).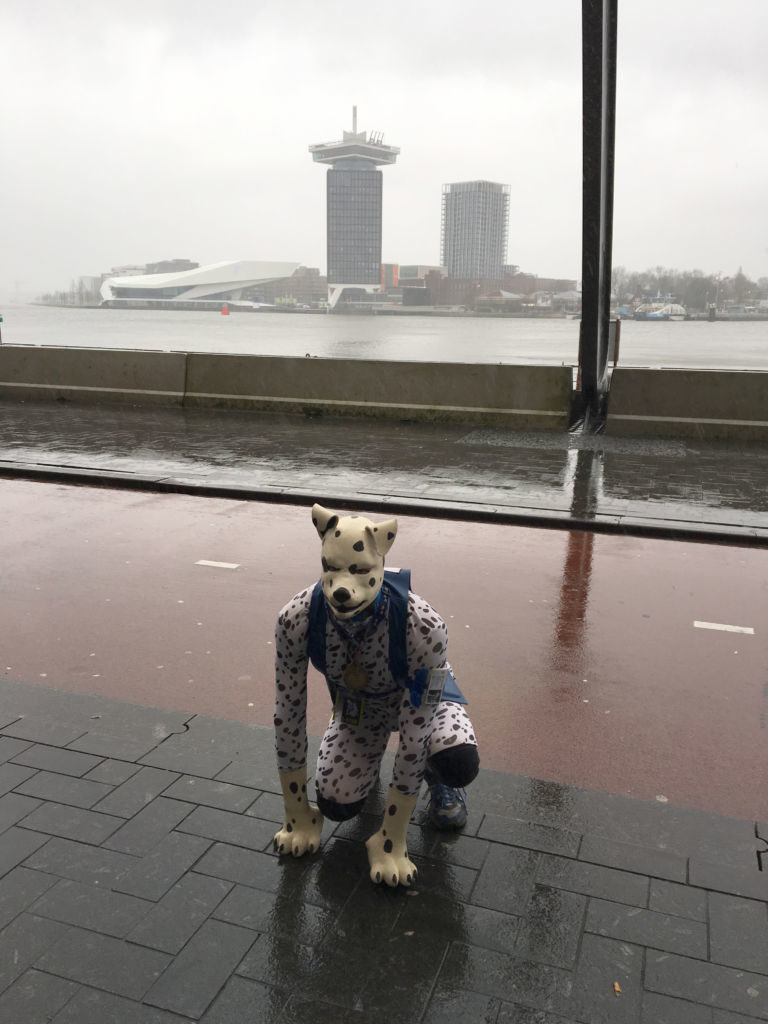 My plan was to travel all the way back to the UK as Puppy – Ok, without the hood and the paws on! After some photos, and a quick coffee and breakfast, we headed off to the airport.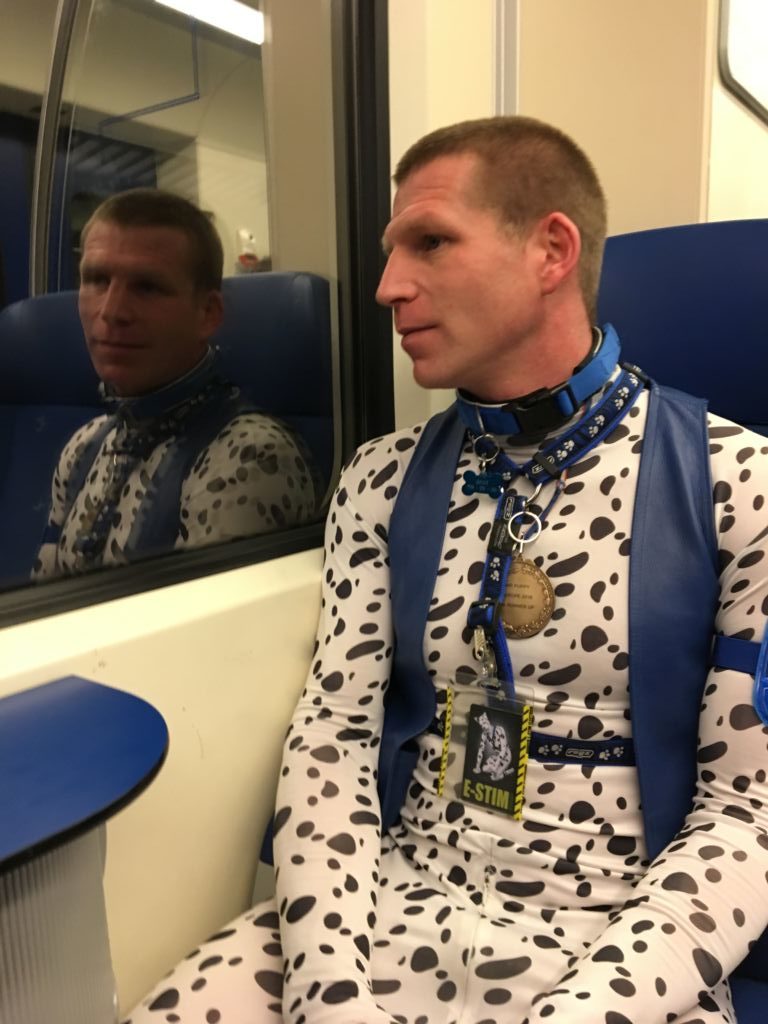 Going through security was fun, as the security staff were asking questions about me and being a puppy in a light-hearted way. Given the weather, and on that day the UK was hit with Storm Doris, our return flight was delayed by a good few hours which meant I ended up wandering around Schipol Airport as puppy for longer than I thought.
Once on the plane, there were still many people asking about me and why I like being a puppy, and I enjoy being me and talking about who I am.
This pup certainly enjoyed being on tour, but sadly once home the puppy holiday was over 🙁 … I'll have to do it again some day soon as it was far too much fun to miss out on future opportunities!