Sorry this has been delayed, it's been a hectic few weeks doing lots!
Saturday 27th June saw the London Pride parade taking place, and this puppy was out walking. Unlike last year, the weather was a little nicer – with glorious sunshine and warm temperatures compared to the rain of last year.
We set off from home, with the intention of getting the train and that I'd travel in as a pup… which meant I had to change in the station car park and then board the train *wags*. I'd decided that, as much as I wanted to do full hood and paws, this was probably not a sensible idea due to the heat.
The puppy assembly point was near the o2 "Be More Dog" bus which meant the opportunity for a photo was just too tempting.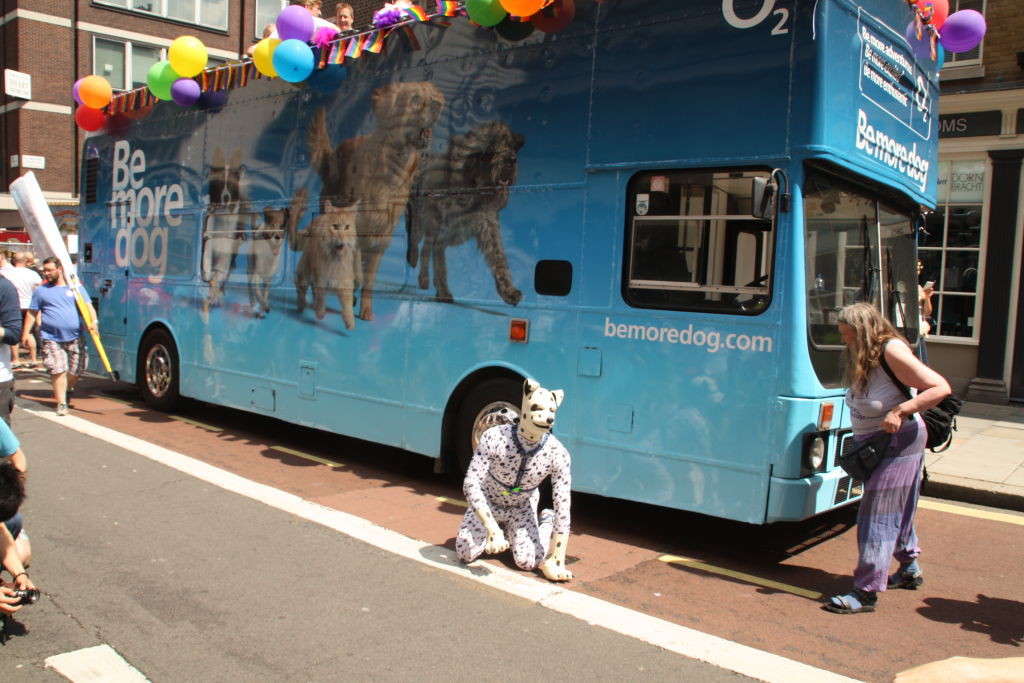 After the picture wast taken and before the walk, I went off to find a tree – 25 minutes later standing in a queue, I hadn't had the chance to use one so I had to come back to assemble for the parade, and get fully kitted up. Then we waited… and waited… and waited.
During the waiting period, someone threw me a bag of chocolate buttons, which I tore my way in to, but unfortunately, the heat had got the better of them and they'd just turned in to a big chocolatey puddle 🙁 *whine*
Eventually we got a chance to set off, but progress down Baker Street was quite slow – with lots of stops and starts, so I was alternating from 4 legs to 2 legs, and due to the heat, I curled up lying down on the road, as it was too hot to be on all-4's
We then turned on to Oxford Street and everything started moving that little bit quicker, and again, I was alternating from 4 to 2 legs – barking all the way.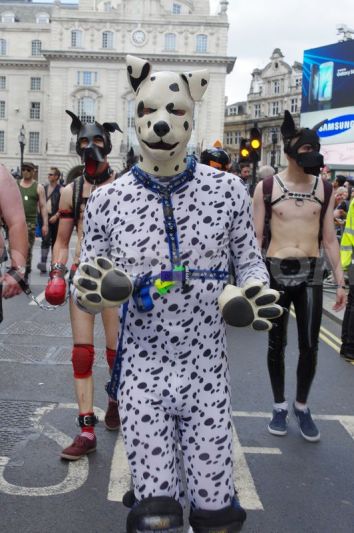 Somewhere down Oxford Street, we gained a blow up football which a few of the pups started playing with at various slow points during the route – for some reason, it seemed to keep re-appearing with us even if we ended up throwing it in to the crowd! *wags*. I also found a cardboard tube, which I was using as a big stick, chewing my way through it … but after a while, I gave it to another pup, who put it down 🙁 … A different blow up beachball got thrown at me, which I went to pick up with my mouth, as all good pups should do, but it went flat … *puppy eyes* it wasn't me … … honest!
The rest of the walk was uneventful, to one extent – with a lot of walking and barking – with the heat making it slightly unbearable at times! This also meant that I had to keep alternating between being on all 4s or walking on 2 legs. A fun but hot parade making myself known to the crowds 🙂
After the parade, we did a few photos then went to join the rest of the pups in a nearby park for a quick lunch. After a quick bite to eat, I got re-pupped up to head for Nandos with my hood and paws, when a small ball arrived at my front paws. It came from a small child who was shouting happily 'dog' at their mum. i bopped the ball bck, whereupon it got thrown back to me with a happy 'dog' from the child. A photo with mum and the tot followed, before heading off for Nandos. Both Marbles and I rode the tube as pups, sitting in front of the door much to the amusement of other passengers.
After the Nandos, I headed home, on the train, fully dressed up as Spot… we took a stopping service so that there'd be quite a few people getting on and off the train, but it actually turned out to be remarkably quiet 🙁
Yet again, another fantastic day out – and with more pups than previous years as well.
And here's a pic of all the pups that attended from @lonchastitysub 🙂

*wags*
Spot